Streamlining Communication Between You and Your Workmates

Clear and concise communication is imperative for any roll in a business, and the quality of a company's internal communication sets the stage for the its future. Communication is something we do reflexively; however, doing it effectively can take a bit of finesse. If you're able to communicate well, you can eliminate misunderstandings and help create a healthy work environment. As much as we may strive to clearly convey our ideas to our workmates, long email threads or word-of-mouth conversations can muddle the original meaning. An effective way to communicate—even the most minute piece of information—is through Workmates.
Have you ever had a simple yes or no question you'd like to ask your teammates, but engaging in a mass email seemed more of a hassle than it's worth? Or have you ever been involved in organizing a work-related event using calendar invites and became overwhelmed with several I'm-unavailable responses? Workmates cuts through the hassle with the ability to create polls and events, providing opportunities for real-time collaborations and connections. Not only does this engage your workmates on a personal level, it helps eliminate the annoyance of email chains and calendar invites by allowing individuals to receive and respond through a united collaborative platform.
Polls can be created to take quick surveys, ask yes or no questions, or initiate crowdsourcing. This ability delivers a simple solution for those one-off questions. Company events can be coordinated through Workmates, simplifying the planning and organizing process. As with other social platforms, once an event is created your teammates can express their interest by responding to and commenting on the event. Whether you need it to brainstorm for a team happy hour or finalize the details of the annual holiday party, the ability to easily create and successfully communicate an event helps build internal momentum and gain excitement for these inclusive gatherings. As well as generating more intimate communication between departments for a lunch destination choice.
Everyone can imagine the email mess this question could cause.
What does everyone want for lunch Friday?
Here at HR Cloud we utilize polls frequently and it's especially useful for our Friday company lunch hosted in the office, attached below.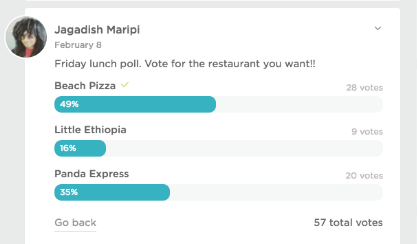 By creating a work-integrated social platform that encourages an open dialogue between employer and employee as well as employee and employee, Workmates helps streamline communication in an advantageous way.
Find out for yourself and generate a work-culture unique to your business today with Workmates.
HR Cloud is a leading developer of HR software & HRMS solutions for business with a focus on effective employee engagement. Founded in 2012, our HRIS empowers teams to easily onboard new hires, manage employee data, create a company social network and support employee development.
HR Cloud was created from the leaders at NEOGOV (founded in 1999 by CEO and Founder Damir Davidovic) the market and technology leader in on-demand human resources software for the public sector, with more than 1,500 government agencies and educational institutions using NEOGOV technology.